Copiers manufactured by any brand will serve your office well (as long as you provide routine maintenance), and copiers manufactured by Canon are known for their reliability. In fact, Canon's A4 copiers won the Buyers Lab's 2021 A4 line of the year, and their A3 copiers were awarded Buyers Lab's 2022 A3 line of the year, as well as Buyers Lab's Most Reliable A3 brand for 2022-2024.
Of the many reasons Canon's A3 and A4 copiers won this prestigious award, like Canon's simple-to-use touch screen and UI, their high level of security, and operability, an independent study found Canon copiers achieved a misfeed rate of one jam per 742,500 pages printed.
What this means is that if you keep your Canon copier in good condition, regularly use it, and keep your paper away from dust and moisture, you could print 50 novels on your copier before it ever sent you an error message reading "paper jam."
So, if paper jams are your pet peeve, Canon copiers are your day at the beach.
What should I look for when buying a photocopier?
Copy Speed
This key statistic tells you at what speed the device will produce copies and prints. Expressed as a number of pages per minute this is normally the first requirement discussed when considering the purchase of a new digital photocopier or multifunctional device. The copy speed also correlates to the copy volume (see number two) with faster devices generally having a larger copy volume. 
A typical workgroup device designed to be shared amongst between 3 to 10 people will normally have a print/copy speed of 25-45 pages per minute (ppm) placing the device in the mid-volume category.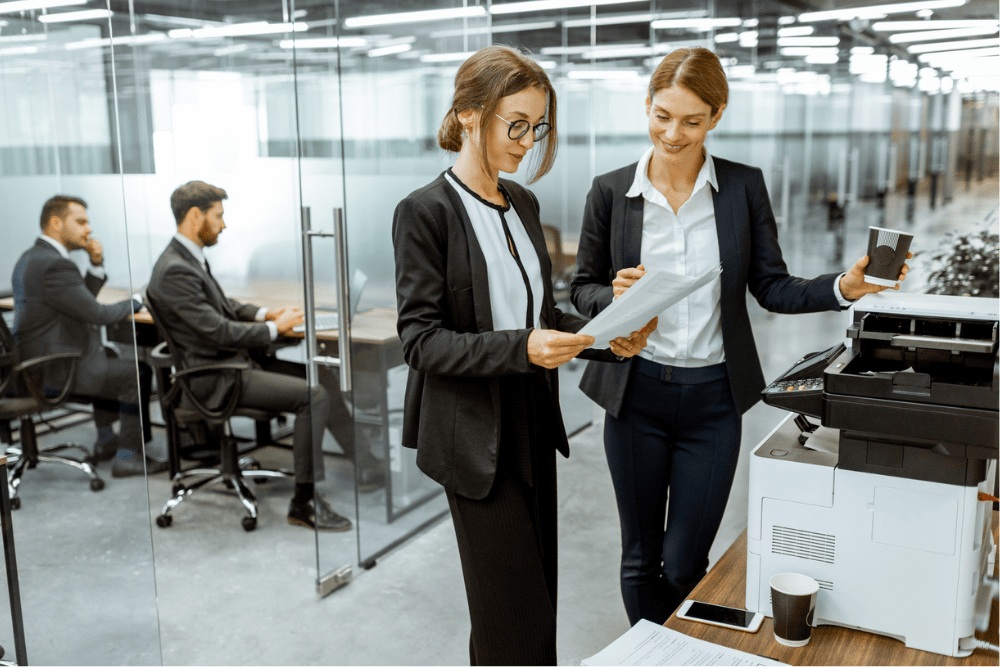 Copy Volume
This number relates to the number of pages per month the photocopier, printer or multifunctional device has been designed to process. Generally, photocopiers and printers with lower copy speeds are designed to process a lower number of prints and copies per month with the copy volume growing in relation to the speed of the device. For ease of understanding photocopiers are generally grouped into volume categories rather than dealing with the actual number. 
The categories include SOHO (small office, home office) for occasional use, low volume, mid volume, high volume and professional print. When considering the purchase of a multi-functional device or photocopier try to estimate how much the device will be used and select appropriately
Network Capability
As a general rule when spending what can be a considerable amount of money on a digital document device most people seek to get as many benefits and features from the device as possible. One of the key features of digital document production devices such as printers, photocopiers and MFD (multifunctional devices) is the ability to interface with a customer's computer network. 
Once connected to the network the humble photocopier becomes a powerful, feature-rich network printer, scan, fax server and much more. When looking at network functionality you should consider which operating systems you use as well as how you want the device to sit within the network. As a general rule, almost all mid-volume-sized machines upwards come with full network functionality as standard.
Scanning Features
A network-connected digital photocopier or MFD (multi-functional device) is generally the ideal platform for use as a feature-rich network scanner. With the advent of colour touchscreen interfaces on many devices and internal processing hardware to rival most desktop computers most digital document devices are now able to scan directly to your desktop, email or even directly into your key business applications such as Sage, Goldmine and many more. 
When looking at MFD devices consider how you might want to use the scanning features of the machines and what efficiencies may be found within your business processes.
Additional Features & Benefits
Modern multi-functional devices, printers, scanners and photocopiers offer a huge range of features over and above the standard feature set. With most modern photocopiers including some form of open-source programming platform embedded in the very usable touch screens, software developers have created a whole host of "bolt-on" applications specifically designed to enhance your printing, photocopying and scanning experience. 
With automated document workflow solutions, scan/document editing applications and accessibility programs to name just a few* you might want to check with your prospective supplier that the photocopiers, printers or scanners you are considering have an embedded application platform that allows for additional 3rd party software to be installed.
If you plan to get copiers for your office in New Jersey, you can opt to buy copiers or lease copiers in New Jersey. We can give you the option to get the copier that you want.  You can contact our local copier leasing services department in your location.
If your Location is around New Jersey, you may call us at (201) 241-3228, and our personnel for copier leasing in New Jersey will assist you.   If you are also looking for copier repair services in New Jersey you may contact our copier repair personnel at the same number